Hi, DVS Families!
It has been a terrific week coming back from Thanksgiving break, and the end of the semester is quickly approaching! This post/email is a bit longer than usual because there is a lot of info to share about the last 2 weeks of the semester:

Please note that students will be dismissed early at 2:25pm on Thursday 12/8 and Friday 12/9 as well as all week from Monday 12/12 to Thursday 12/15.
Student Grades: This is an important time to sit down with your student and check their grades in Canvas and Powerschool. Click here for the Powerschool website; login information was included on the grade reports that were sent home earlier this semester and you can email Liz Diaz at ediaz@davincischools.org if you need your username and password.  Currently, there may be some discrepancies between Canvas and PowerSchool, we are working with IT on this issue, thank you for your patience. 
Presentations of Learning: "POL" preparation begins next week for students in grades 9-11! (Seniors will be taking final exams instead of doing POLs) Click here for an information sheet for families with details about presentations of learning. All POLs will be scheduled between Monday 12/12 and Thursday 12/15.
Parent Office Hours with Grace & Saya: Parent Office Hours with administration will be held every even week. Since it is Week 16, we will be meeting at this zoom link this Thursday, December 8th from 4:30-5:30. This will be a casual time of updating, chatting, and Q&A.
CHYA Presentations: Dr. Green and Nurse Lucero will be presenting the health & sexual education curriculum ("CHYA", or "California Healthy Youth Act") to freshmen throughout POL week. Click this link to read the notification letter from Dr. Green. If you have any questions about the content that will be covered, please email Dr. Green at egreen@davincischools.org. Parents have the right to "opt-out" of this presentation for their child; if you wish to do so, please email Saya Wai, DVS Dean of Students, at swai@davincischools.org. 
First semester report cards will be mailed home on Monday, 12/19. Students will have a 3-week winter break, and the second semester begins on Monday, January 9th: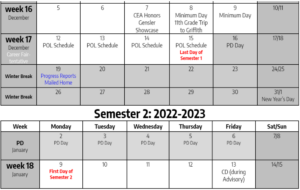 Important Upcoming Dates:
12/3 Saturday, Winter Fest 11:00-3:00pm

12/8-12/15, Thursday-Thursday: Presentations of Learning – Early Dismissal at 2:25 all week

12/15, Thursday: Last day of Semester 1

12/16, Friday: Professional Development Day, No School

12/19-1/6: Winter Break (No School)

Monday, 1/9: School Resumes & Semester 2 Begins