Dear DVS Families, we hope you all are well! It has been great to see students back on campus – we are proud of the resilience of our students and staff, and we eagerly look forward to the healthy and safe return of our students who were unable to be at school this week! Next Monday is a school holiday in honor of Dr. Martin Luther King, Jr., and seminars will resume on Wednesday. We will also have our next School Site Council meeting on Wednesday at 4:30pm via Zoom in place of our normal parent office hours.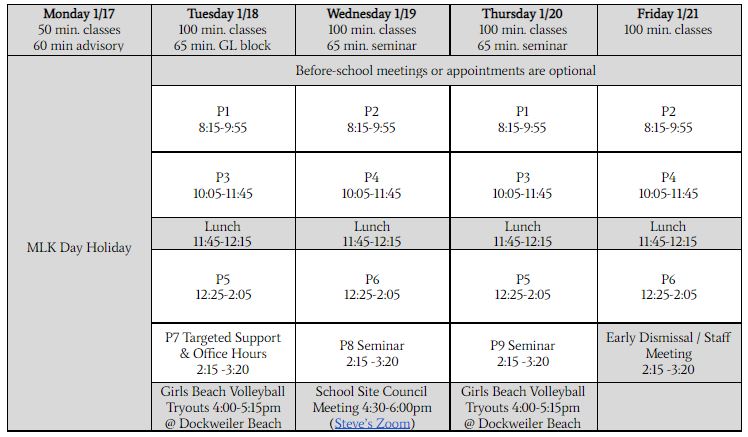 We appreciate everyone's efforts to keep school safe by complying with mask regulations and distance precautions, and for staying home if you are experiencing any COVID symptoms or not feeling well. Students can also take a free COVID test here at school during school hours.
If your student is going to be absent from school, we ask that you email Ms. Alvarez in our front office at balvarez@davincischools.org to let us know. If possible, students should continue to engage in whatever learning and work that they can so that there is less to catch up with upon returning. If a student is absent, they should do the following:
1. Check their Grade Level Tracker for assignments (Grade 9   Grade 10   Grade 11   Grade 12)
2. Check each teacher's Google Classroom for class information, documents, and teachers' availability for Zoom Office Hours – join teachers' Zoom office hours if possible!
4. Check school email daily and email teachers with any specific questions or needs for additional support
We are here for you and want to be as helpful as possible in this challenging time – please don't hesitate to reach out and let us know how we can support you!