We had another great week here at DVS! Time is flying by as we are already heading into week 32! We are very proud of our students for still learning well. They are engaged in heart dissections, moot court debates, fashion shows in Spanish, and more! We also wish our Robotics team well in Houston. They are having a great time at the FRC World Championships in Houston. Team 4201 is doing very well and is currently ranked 9th. "Takeoff" (the name of the Robot) looks smooth and zippy out there! Here's the link to the competition if you would like to keep up with the action this weekend: https://www.thebluealliance.com/team/4201.
 FYI this

Welcome Incoming Families email

was sent out to new families – welcome to DVS Class of 2027!

Administrative Professionals Day is Wednesday, April 26th

. We are grateful for our front office staff, Liz Diaz, Brittany Alvarez, and Summer Munoz.
National Teacher Appreciation Week is May 8-12th. If you are interested in coordinating or helping out with providing breakfast or lunch for staff this week, please let Liz know at

ediaz@davincischools.org

. If you are able, we are also grateful for any gift card donations to be used as prizes and purchasing of supplies for staff appreciation week (no obligation, completely voluntary). You can make ecard donations to

dvsappreciation@gmail.com

or drop off gift card donations to the front office. Thank you in advance for your support! 

A message from the Wiseburn Education Foundation: Wiseburn Education Foundation's Rock Around the Block, coming up on April 29th at Dana Middle School. Did you know that WEF runs a Rock Around the Block silent auction, which is live right now? You can log on to WEF's auction website at

bit.ly/RABAuction2023

to view and bid on items such as restaurant gift cards, summer camps, museum tickets, and more! You also will not want to miss the "School Packages" category, which has items such as front-row seats for graduations and end-of-the-year concerts, principal for a day, and special experiences with your student's favorite teachers. Bidding on items in this auction is an easy way to support WEF, because 100% of winning bids will go right back to our schools, teachers, and students. The auction ends on Saturday, April 29th at 9pm, so don't miss out!

11th grade- next week is a busy week, especially for our juniors! 11th-grade students have state testing followed by a team-building Fulcrum Day and then a field trip to Cal Poly SLO College Visit or

National Association for College Admission Counseling

(NACAC). We hope these experiences will be positive and helpful to their learning journey
Week 32 Schedule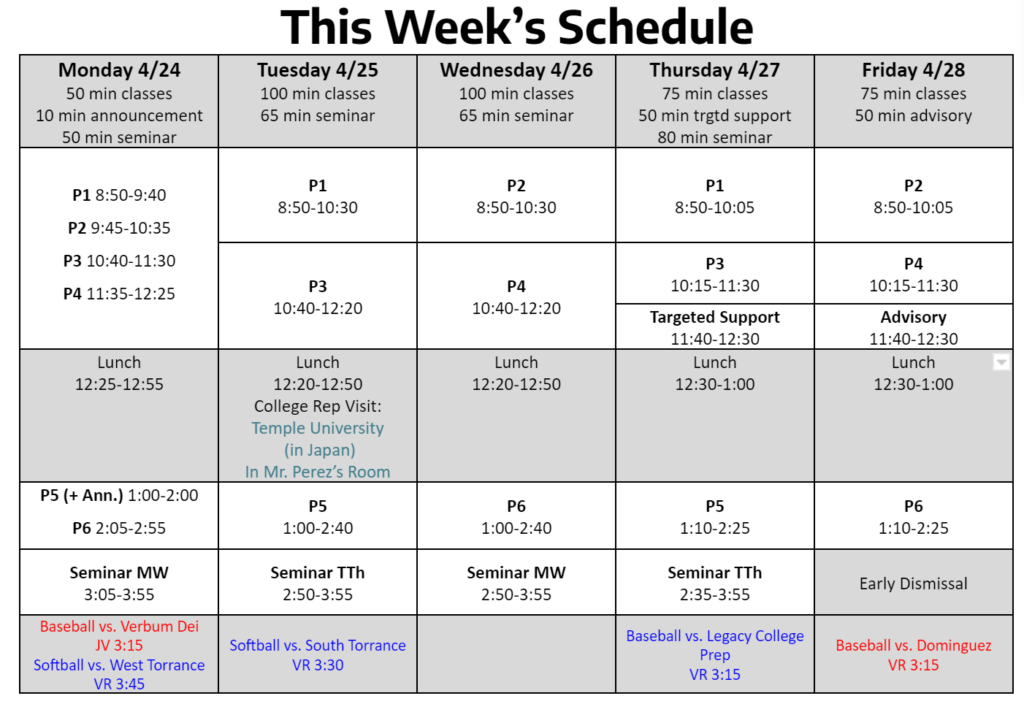 Important Upcoming Dates:
FRC Robotics World Championships in Houston: 4/19-4/23

Tuesday and Wednesday, 4/25 and 4/26: 11th Grade State (SBAC) Testing

Thursday, 4/27: 11th Grade Fulcrum Day

Friday, 4/28: 11th Grade NACAC Field Trip, Cal Poly SLO Pathways Fieldtrip

Friday, 5/5: PD Day, Prom at 6:00pm

Thursday, 5/11: Senior Awards Night 

DVS Graduation: Thursday, June 8th at 5:00pm

Summer School (for credit recovery): Session 1: June 13-June 30, Session 2: July 11-July 27
Have a wonderful weekend!