Hope everyone had a great week! As always, lots of fun, learning, and things happening at DVS:
Parent Office Hours with Grace: Parent Office Hours with administration will be held every even

week. Since it is Week 8, we will be meeting

at this zoom link

this Thursday, October 6th from 4:30-5:30. This will be a casual time of updating, chatting, and Q&A.

School Site Council: We had a great School Site Council meeting last week. Thank you and congratulations to SSC members: Shari Jones (parent), Anne Tittle (parent), Mark Zakrzewski (parent),

Trinity Cauton

(student), Emma Hattne (student), Adam Tittle (student), Saya Wai (staff), Jessi Snyder (staff), and Carolyn Ruiz (staff). SSC meetings are open to the public and we welcome you to join any of our meetings in the future. Next SSC Meeting will be 1/19.

Student Board Members: Congratulations and thank you to student board members: Emma Enriquez (12th), Emma Hattne (11th), and

Vio

let Pena

Gomez

(11th). Student board members will represent DVS at designated school board meetings. We look forward to their leadership and representation. 

Student Cohesion Team: Congratulations and thank you to student cohesion team members:

Harrison Fischer-Huber

, Jay Clark, Malachi Smith, Amber Angel, Jasper Jordan,

Kan Niya Lorenzo

,

Emma Hattne

, Aiden Corral, Anaya Harrison. Student Cohesion team meets to discuss school programs and school issues, and provide insight from the student perspective to make recommendations for continued school improvement and enjoyment.

PSAT/SAT Day: Testing day is coming up on October 12th. Although some colleges and universities may vary in the request for SAT scores, we would still like to provide free access and opportunity to these assessments. Test-taking skills continue to be utilized post-high school and it is our hope that students can learn and grow in these skills through their experiences in high school. It will be a long day of testing and our lunchtime will be pushed back to later than usual. If you are able and interested, we would greatly appreciate any healthy snack donations for students for testing day. Again, snack donations are completely optional. If you would like, please drop off healthy snack donations to the front office (granola bars, energy bars, easy-to-eat fruits, etc.) before Oct. 12th. Thank you! Students will also be asked to bring their own calculators. 
DVS Academic Supports–

We hope classes are going well for every student. Attendance, engagement, and feedback from teachers and peers are very important in the learning process. We have many academic supports in place including office hours, targeted support, and before and after school tutoring. We encourage all students to take advantage of these additional learning opportunities. For detailed information and availability please see this flyer:

DVS Academic Supports.

This information is also available under "Resources" on the DVS Blog page. Any questions about academic support, please contact our Academic Counselor, Ms. Valle, at cvalle@davincischools.org.

Student Led Conferences: SLCs are coming up Week 10, Oct. 17-21. Please see Grade Level Team's schedule for details on your student's specific time and Zoom link. Also please note earlier dismissal times for Week 10.
Canvas Support: Thank you again for your patience and support with transitioning to Canvas. If you have any technical questions or issues with Canvas, please contact our IT department at

studentsupport@davinischools.org

for assistance.

Custodian Appreciation Day, 10/2 – We want to give a shout-out to all our DV custodians. They work so hard to keep our school clean and safe for our students. A special thank you to DVS custodian, Mr. Urbano!
Important Upcoming Dates:
10/12, Wednesday: PSAT/SAT Testing Day
10/13, Thursday: No School – Professional Development Day

10/14, Friday: No School – Professional Development Day

10/17-10/29, Monday – Thursday: Student-Led Conferences

For SLC Week, Monday Dismissal will be at 2:55, T-Friday Dismissal will be at 2:25
11/1, Friday: No School – Veterans Day Holiday

11/10, Thursday: Exhibition Night (grades 10th, 12th, & Spanish Dept.)

11/21-11/25, Monday-Friday: No School – Thanksgiving Break

12/8-12/15, Thursday-Thursday: Presentations of Learning

12/16, Friday: Professional Development Day, No School
Week 8 Schedule: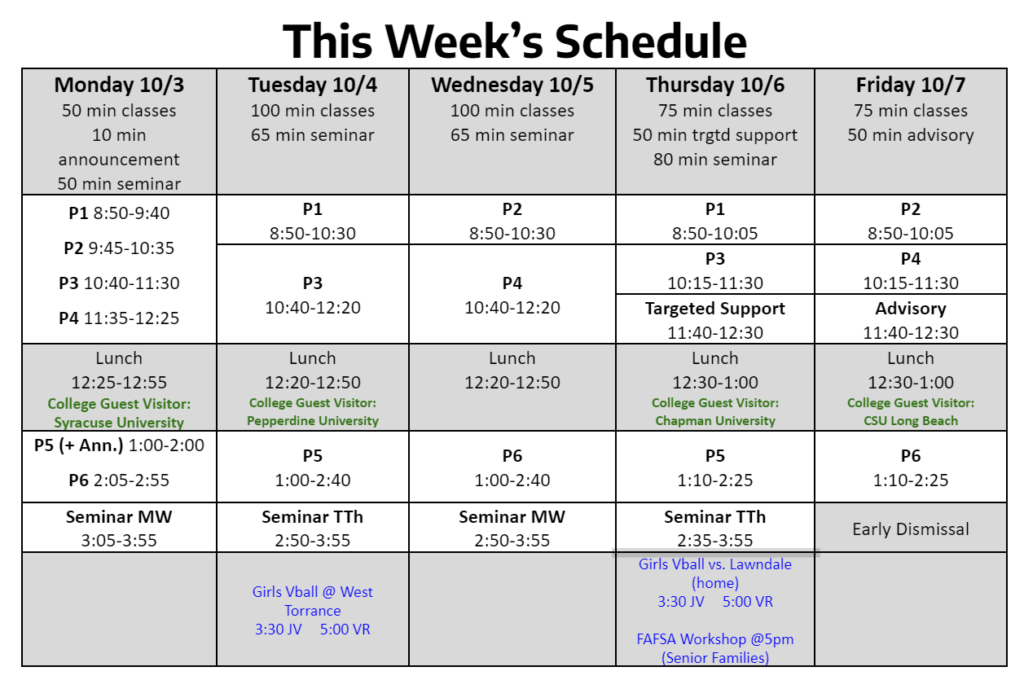 Have a wonderful weekend!