Week 29 Schedule
This has been a very busy week at DVS! We are still celebrating and recuperating from hosting last week's FIRST Robotics L.A. Regionals at Da Vinci Schools. Congratulations to our Vitruvian Bots! Team 4201 is going to World Championships in Houston! Team 4201 qualified by winning the Regional Engineering Inspiration Award. We also competed well and made it to the semi-finals. Most importantly, the team worked hard, were gracious hosts, had fun, and demonstrated kindness and inspiration to the community- truly "more than robots!" Thank you to all those who came out this weekend to support us. 
The biomedical pathway also held our annual "Grand Rounds" where students presented their diagnosis and treatment plan to real industry doctors. We thank Dr. Ian Kramer, Dr. Jennifer Imparato, Dr. Mike Liu, Dr. Michael Healy, Dr. Jeanette Fong, Dr. Jay Lee, Jeremy Wong, and Saya Wai for hosting this amazing event. The doctors shared that this was the best presentation they have heard! 
Our counselors also gave wonderful college webinars this week. College webinars will be posted soon.
Da Vinci Schools CARnival

is tomorrow!

Da Vinci Schools will be hosting our 2nd annual CARnival TOMORROW, Saturday, March 25th, 10am-5pm! This fun day of games, food, entertainment, and cars is an important fundraiser that supports student activities and is open to the community! Please join us and invite your friends and family! For more information, check

this CARnival website

and please contact Kat Ramos, DVS Leadership Advisor, at

kramos@davincischools.org

. 

Exhibition Night

is this week!

Please join us on

Thursday, March 30th from 5:30pm-7:30pm

for Da Vinci Science High School's Spring 2023 Exhibition Night! 9th & 11th grade students will be showcasing their learning, and we hope all students will attend. Please invite family, friends, and prospective students! See you there!
Spring 2023 Da Vinci Schools Experience Surveys:

Your feedback is valuable to us. Please take a moment to complete this semester's experience surveys.

Calling Diabetes Guest Speakers:

This year, seniors in the DVS Biomedical Pathway are finishing out their semester with a Design Project on Diabetes (type 1 and 2). Their mission is to use the design process to identify a diabetes-related problem and come up with a subsequent solution. As part of the design process, students will be interviewing individuals who have experiences with diabetes in order to develop empathy and a fuller understanding of diabetes. These individuals can be patients, family/friends, researchers, or medical professionals. These interviews will take place after Spring Break. If you or someone you know may be interested in being a part of this process, please let Saya know at

swai@davincischools.org

. 

We still have Metro passes at the front office. If you would like a free LA Metro pass, please pick one up at the front office. 
Week 29 Schedule– please note there is no school on Friday, 3/31, in honor of Cesar Chavez Day. We appreciate the legacy of Cesar Chavez and all he accomplished as a civil rights leader, educator, and environmentalist.
We will then be on Spring Break from 4/3-4/7, students will return from Spring Break on Monday, April 10th.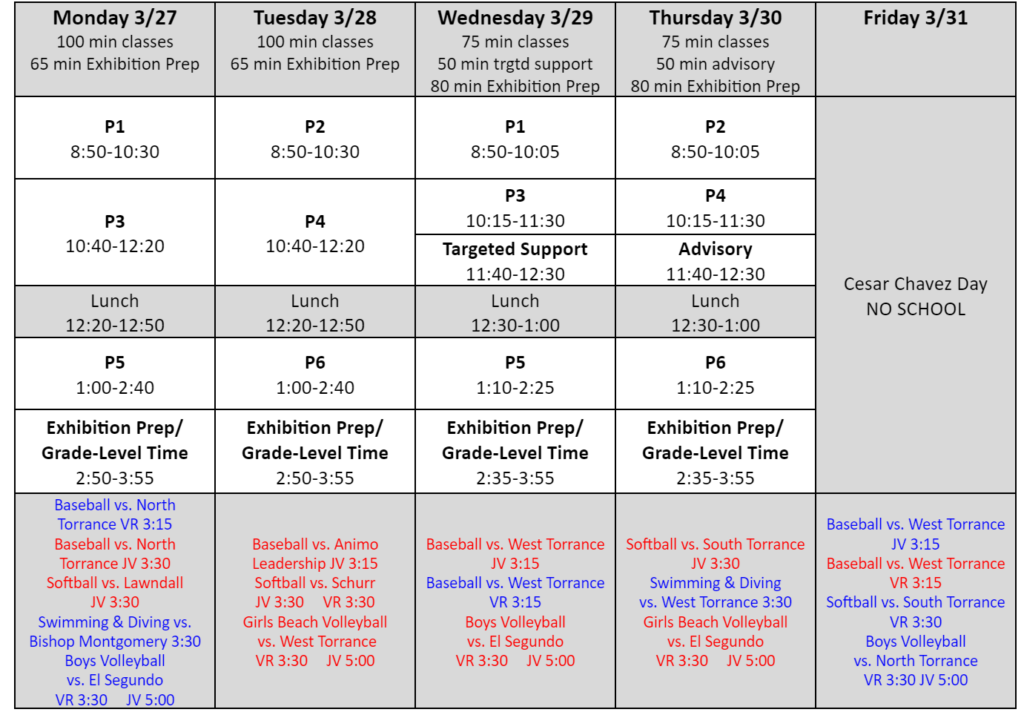 Important Upcoming Dates:
Friday, 3/31: Cesar Chavez Holiday – No School

Monday-Friday, 4/3-4/7: Spring Break

Monday, 4/17 Senior Beach Day

Tuesday and Wednesday 4/25 and 4/26 – 11th Grade State Testing  

Thursday, 5/11 Senior Awards Night 

DVS Graduation: Thursday, June 8th at 5:00pm

Summer School (for credit recovery): Session 1: June 13-June 30, Session 2: July 11-July 27
Medical Ground Rounds