Next week is the final week of Season 13! We are proud of our students for doing an excellent job on their Presentations of Learning, demonstrating their mastery of course content and reflecting on the significance of their strengths and struggles in this first year back from "Zoom School"! We have a POL schedule on Monday and Tuesday, and a modified short-day schedule on Wednesday when students will attend each of their classes and end with a student-led community dialogue and time together with advisory families.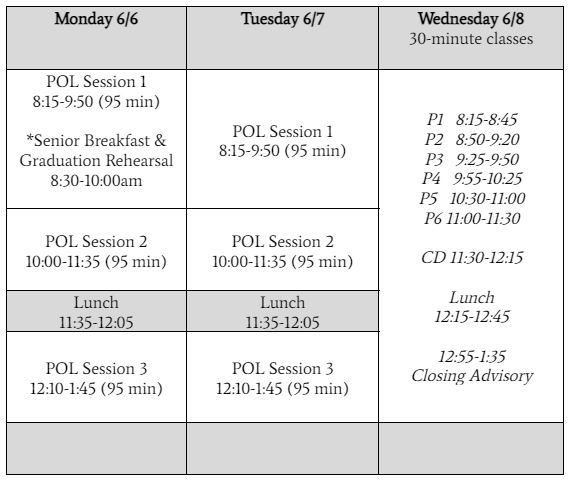 Our school nurse, Dr. Emily green, has asked us to advise families that DVS is experiencing high numbers of COVID infections (9th-13; 10th-6; 11th-4; 12th- 9; Staff- 1) that are linked to exposures on Grad Nite and 2 other possible off campus social gatherings. We have reported 32 student cases and 1 staff case since 5/20 (within a 14-day period). The COVID Compliance team has filed a "cluster" report with LA County Dept of Public Health who are investigating and will determine if an outbreak case is warranted and further mitigation strategies. We have been sending individual notices of close contact, but overall, consider your student exposed. We are going to continue monitoring/reporting new cases.
From now until graduation, we strongly recommend indoor masking and limiting close contacts. Please continue to test if symptomatic and 3-5 days after exposures and to overall monitor symptoms and choose activities wisely given the number of cases both in our school and in the community in general right now. We want everyone to make it to graduation and summer activities!
See testing info below.
Rapid covid tests are available at school sites during school hours, no appt needed. Student, please pre-register for testing here. It is a rapid test and results are available 15 minutes later.
Home Tests are available at school sites during school hours, please request from health office/front office.
Please monitor your health. If you child develops illness symptoms or tests positive for COVID-19, please stay home and notify the school. Signs and symptoms include:
Fever or chills
New Cough
Sore throat
Diarrhea
Nausea or vomiting
For current quarantine, isolation, and other COVID FAQs please see here.