Week 26 Schedule
We hope everyone enjoyed the cold, hail, and snow this week! The snow-capped mountains have been an enjoyable site to see for our community. 
(Apologies if you are just receiving the email for this blog post today, there were some technical issues with email notifications being sent out for new blog posts)
Our Robotics team, the Vitruvian Bots, left for Port Hueneme for their Regional Competition this morning. If you would like to watch Team 4201, here is a link to the event. We are proud of our students for their hard work, learning, and dedication to the FIRST Robotics Competition!
Week 26 Schedule: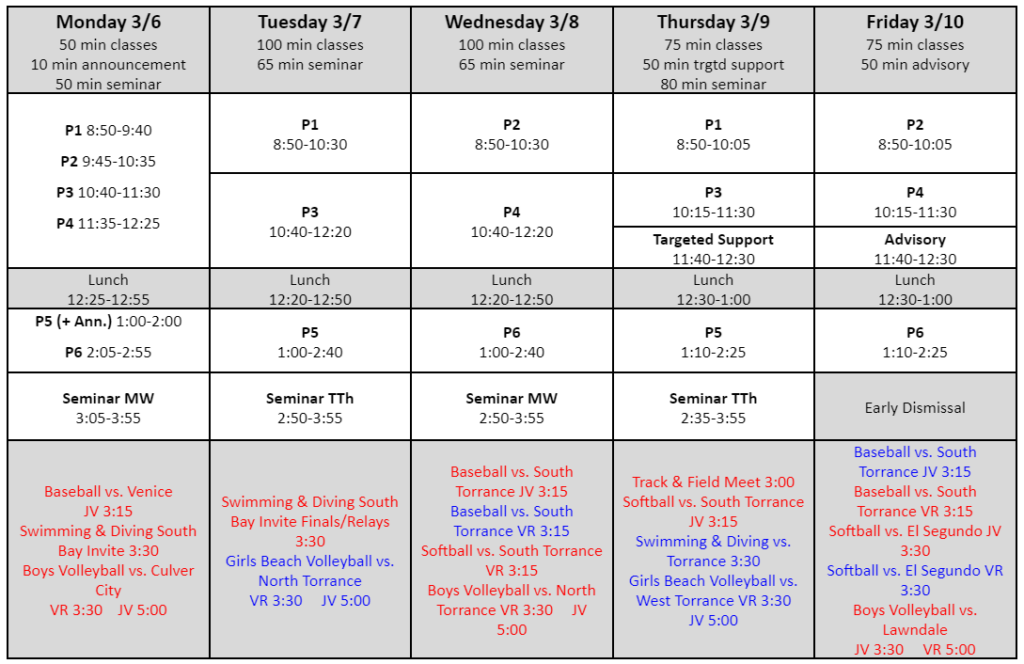 Important Upcoming Dates:
Friday-Sunday, 3/3-3/5: FRC Regionals at Port Hueneme 

Monday, 3/6: Senior Fulcrum Day

Monday-Thursday, 3/13-3/16: Student-Led Conference (SLC) Week

Friday, 3/17: PD Day, No school for students

Friday-Sunday, 3/17-3/19: FRC LA Regionals at Da Vinci  

Monday, 3/20: Freshmen College Webinar 5:00-6:00

Tuesday, 3/21: Sophomore College Webinar 5:00-6:00

Wednesday, 3/22: Medical Interventions Grand Rounds 6:00pm

Thursday, 3/23: Junior College Webinar 5:00-6:00

Thursday, 3/30: Exhibition Night for Grades 9 and 11

DVS Graduation date is scheduled for Thursday, June 8th at 5:00pm