Week 6 Preview
Dear DVS Students and Families,
We had another great week at DVS! We hope students enjoyed the Friday off as staff had a very productive Professional Development Day. We had a wonderful Community Dialogue this week. The whole school gathered in the gym to celebrate Hispanic Heritage Month. Thank you, Latinos Unidos, Latinx Club, and Mecha Clubs for leading the school in this celebration by sharing their personal stories of what Hispanic Heritage means to them. 
Honors: Honors rollout in classes will continue this week. Honors is an option that is available to all students. Honors projects, assignments, and criteria may vary by course. Please note the Honors Signup Form has been extended to the end of Week 6 and is due Friday, September 23rd.    
Canvas Access: Thank you for your patience as we continue to adapt and transition to Canvas as the learning management platform. Parent and guardian logins for Canvas will be issued very soon. For now, we encourage you to use your student's login information to view course information on Canvas.
Picture Day Makeups: Last call for picture makeups and retakes will be this Tuesday, 9/20 from 9:30-10:30 am. Student IDs will be issued soon. 
School Site Council: Thank you to the parents and guardians who indicated an interest in the School Site Council! We have five candidates for three positions; please vote using this form: DVS School Site Council Election Form for Parent/Guardian Representation The three candidates with the highest number of votes will be elected to the School Site Council for the 22-23 school year. The first School Site Council Meeting is scheduled for Thursday, 9/29 at 4:30 pm on Zoom. 
Important Upcoming Dates:
Tuesday, 9/20: Picture Day Makeups

Thursday, 9/29: School Site Council Meeting #1 @ 4:30pm via Zoom

Wednesday, 10/12: PSAT/SAT Testing Day

Thursday, 10/13: No School – Professional Development Day

Friday, 10/14: No School – Professional Development Day

Monday, 10/17 – Thursday, 10/20: Student-Led Conferences

Friday, 11/11: No School – Veterans Day Holiday

Thursday, 11/10: Exhibition Night (grades 10th, 12th, & Spanish Dept.)

Monday, 11/21 – Friday, 11/25: No School – Thanksgiving Break
Week 6 Schedule: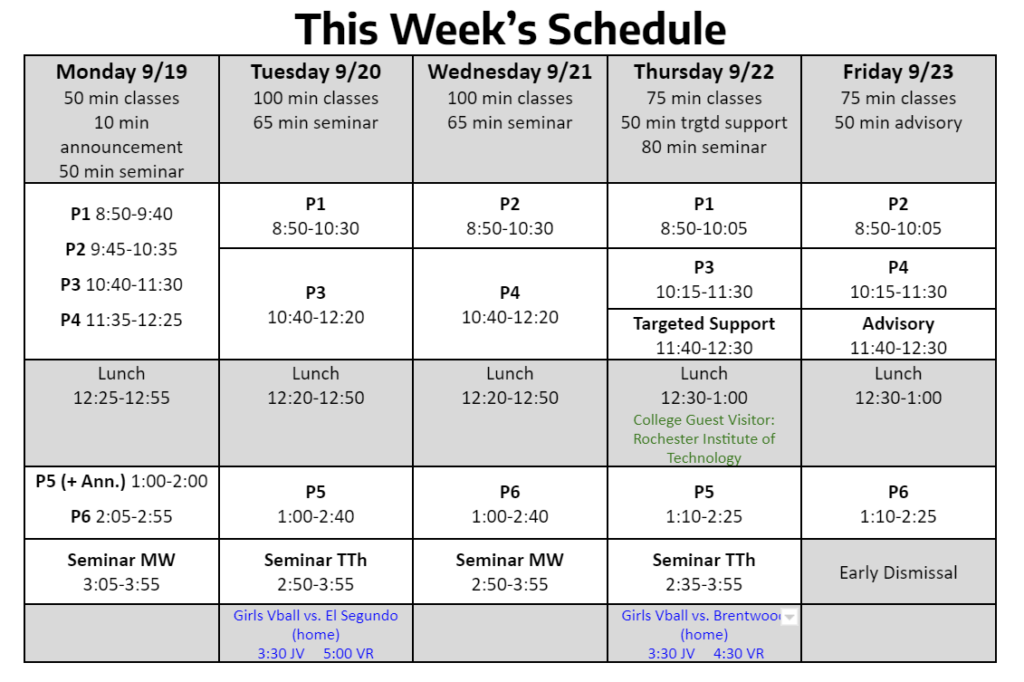 Have a wonderful weekend!