Week 14 Schedule & Information
Next week is our last week before Thanksgiving break! Students only have classes on Monday through Thursday. We will not be holding our regularly scheduled parent office hours on Monday, but our girls' basketball and boys soccer teams have games after school throughout the week!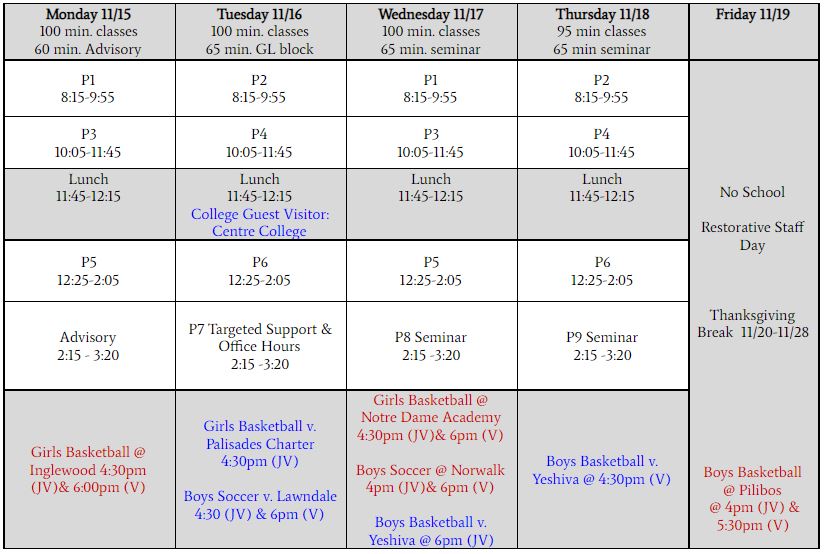 Next week, we are continuing our tradition of organizing Thanksgiving baskets to deliver to our school staff on Thursday, November 18th. The idea is that each staff member will receive one basket containing things they like and words of appreciation from students and parents/guardians. If you wish to contribute to the baskets of Thanksgiving, here are some ways you can do that!
Items: If you are interested and able to purchase something to show your appreciation, please consider using this list of the DVS staff's favorite things for ideas. Students can drop off any items for staff baskets in Steve & Grace's office.  We will begin collecting items for the Thanksgiving baskets on Monday, November 8th! If you'd like to make a general contribution to be shared amongst the whole staff, you can send an e-gift card to dvsappreciation@gmail.com. Your gift will be used to purchase items for the baskets and your name will be included with the basket.
Words of Appreciation: There is nothing that means more to school staff than words of appreciation or encouragement! Please consider handwriting a note of thanks or typing one digitally here: DVS Staff Appreciation Notes We will be printing these digital messages and including all words of appreciation in the baskets. Handwritten notes for staff baskets can also be dropped off with Steve & Grace!
Finally, one of Da Vinci's Signature Practices is Exhibition Night, an evening event for our community to come together to witness and celebrate how much our students have learned and grown in the project-based environment. Though we originally planned to hold an Exhibition Night this semester, we have decided to allow our teachers and students additional time to prepare for this important showcase. As a result, we will be rescheduling our Exhibition Night for second semester (January – June). We look forward to showcasing our students' terrific projects in the new year, and we will let you know as soon as we decide on our new dates.
With gratitude for your ongoing encouragement and support,
Steve & Grace