Week 14 Schedule
We hope you are all enjoying this Veteran's Day weekend. To our veterans and to our military families: thank you for your service.
Thank you, DVS Sophomores, Seniors, and Spanish students for a fantastic Exhibition Night. The students did an amazing job showcasing their work and engaging guests in fun learning experiences. Thank you to all DVS families and community members that came out to see us! 
This week, a group of DVS students from all grade levels had the exciting opportunity to go to the LAX Aviation Career Day fair. From piloting and TSA to fire department and construction trades, students had an opportunity to learn all about what careers look like in the setting of a huge and local economic driving force: LAX airport. The event was hosted on the LAX tarmac, where students engaged with employers in a range of career fields.
We are also very proud of the Vitruvian Bots! Team 4201 made it to the finals at the Beach Blitz competition and are also hosting a First Lego League competition to support the younger generation of Robotics teams. Also, best wishes to our  Youth and Government Delegation this weekend as they are currently at Camp Roberts for their Training in Elections Conference. 
This week:
College Information Meetings– College Informational Webinars will take place this week! These college information sessions will be hosted by our college counselor, Ms. Marquez. 

Tuesday, 11/15 – 9th Grade College Webinar 5:00-6:00 pm

Wednesday, 11/16 – 10th Grade College Webinar 5:00-6:00 pm  

Thursday, 11/17- 11th Grade College Webinar 5:00-6:00 pm

Here is the zoom link for all college webinar sessions: https://zoom.us/j/9301907728

Parent Office Hours with Grace & Saya:

Parent Office Hours with administration will be held every even week. Since it is Week 14, we will be meeting

at this zoom link

this Thursday, November 17th, from 4:30-5:30. This will be a casual time of updating, chatting, and Q&A.

DVS Staff Gratitude Baskets-

We appreciate our DVS staff for working hard and caring for our students every day.

This week, we will be continuing our tradition of organizing Thanksgiving Gratitude Baskets to deliver to our school staff as they leave for Thanksgiving Break on Friday, November 18th. The idea is that each staff member will receive one basket containing things they like and words of appreciation from students and parents/guardians. Thank you for your continued support in helping our teachers, counselors, academic coaches, paraeducators, and front office staff feel appreciated!

If you wish to contribute to the Gratitude Baskets, here are some ways you can do that!

Items:

If you are interested and able to purchase something to show your appreciation, please consider using this list of the

DVS staff's favorite things

for ideas. If you'd like to make a general contribution to be shared amongst the whole staff, you can send an e-gift card to

dvsappreciation@gmail.com

. Your gift will be used to purchase items for the baskets and your name will be included with the basket.

Words of Appreciation:

There is nothing that means more to school staff than words of appreciation or encouragement! Please consider handwriting a note of thanks.

 
Any items or notes for the Gratitude Baskets can be dropped off in the front office between today and Thursday, November 17th.

We are also looking for parent/guardian volunteers to help with assembling the Gratitude Baskets during the week of 11/14-11/18. If you are available and willing to help, please reach out to our Office Manager, Liz Diaz at

ediaz@davincischools.org

. 
Important Upcoming Dates:
11/21-11/25, Monday-Friday: No School – Thanksgiving Break

12/8-12/15, Thursday-Thursday: Presentations of Learning – Early Dismissal at 2:25 this week

12/15, Thursday: Last day of Semester 1

12/16, Friday: Professional Development Day, No School

12/19-1/6: Winter Break (No School)

Monday, 1/9: School Resumes & Semester 2 Begins
Week 14 Schedule: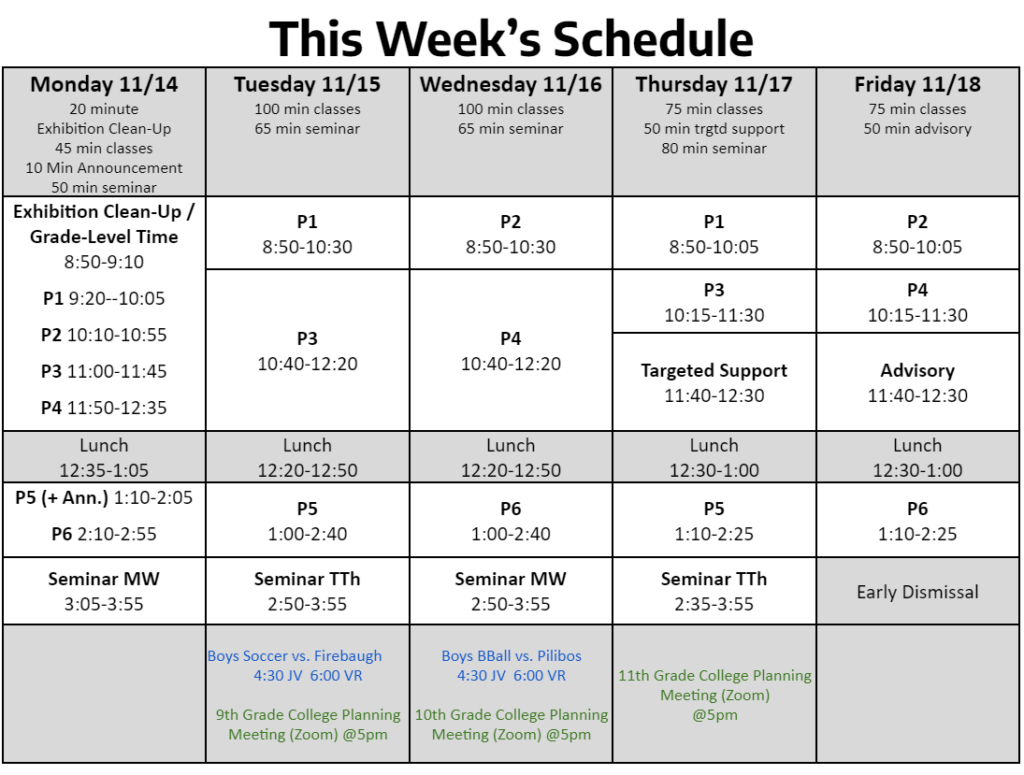 Some fun memories from the week:
Aviation Day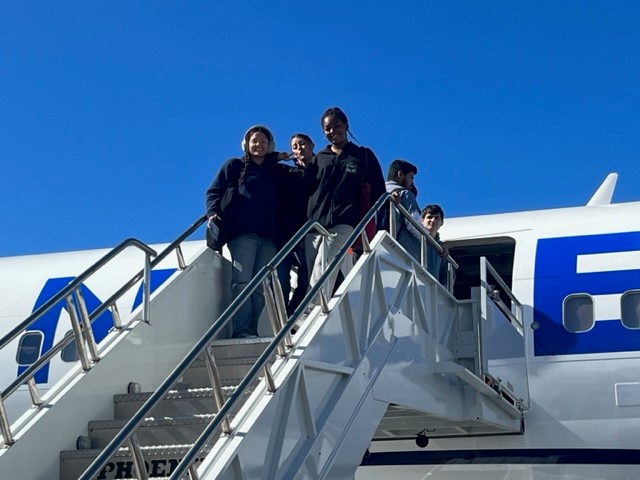 Exhibition Night: