Week 27 Schedule
Congratulations to Team 4201 Vitruvian Bots who did a great job at the LA Regional Competition in Port Hueneme! Team 4201 made it to the semi-finals and received the "Gracious Professionalism Award" as recognition for being one of the most community-oriented, helpful, and giving teams in the region. The students have been working very hard and we are very proud of them. They will be competing at another LA Regional Competition next week (Friday, 3/17 – Sunday, 3/19) in the Da Vinci Schools gym. 
Yearbook:

The yearbook is available for purchase at

http://www.yearbookordercenter.com

. Use the school code 19656. The current price is $50 (+$5 processing fee) but will be increased to $60 (+$5 processing fee on March 15th. Orders will be accepted through May 16th or when the last book is sold, whichever comes first. For more information, please contact Travis Wimer, DVS Yearbook Advisor, at

twimer@davincischools.org

.

Student Led Conferences:

SLCs are next week (March 13th-16th)! Please refer to communications from Grade-Level teachers for details on your student's SLC time, location/link, and preparation requirements. Also please note earlier dismissal times for next week (see schedule below).

Da Vinci Schools CARnival:

Da Vinci Schools will be hosting our 2nd annual CARnival on Saturday, March 25th 10am-5pm! This fun day of games, food, entertainment, and cars is an important fundraiser that supports student activities and is open to the community! Please join us and invite your friends and family! For more information, please contact Kat Ramos, DVS Leadership Advisor, at

kramos@davincischools.org

. 

Senior Activities:

Here is the updated

Senior Activities

list. Please note Prom and Grad Night tickets can now be purchased through MySchoolBucks. Inflation has definitely impacted many families. If you are able able to sponsor other seniors to participate in senior activities, you may do so on MySchoolBucks, and thank you in advance. If you are in need of sponsorship for senior activities, please let Grace Long or Saya Wai know.

Boeing Internship: Boeing is offering information sessions that provide a high-level overview of their Summer Engineering Program. This opportunity is open to students who are US Citizens entering their senior year in the fall of 2023 that are enrolled in an engineering or computer science pathway. The session will include information on mentor/mentee expectations, as well as a Q&A session. If you would like to attend, please fill out this

form

to receive the calendar invitation and zoom link. For more information, please contact Crissel Rodriguez, Director of Real World Learning, at

crodriguez@davincischools.org

.
Week 27 Schedule: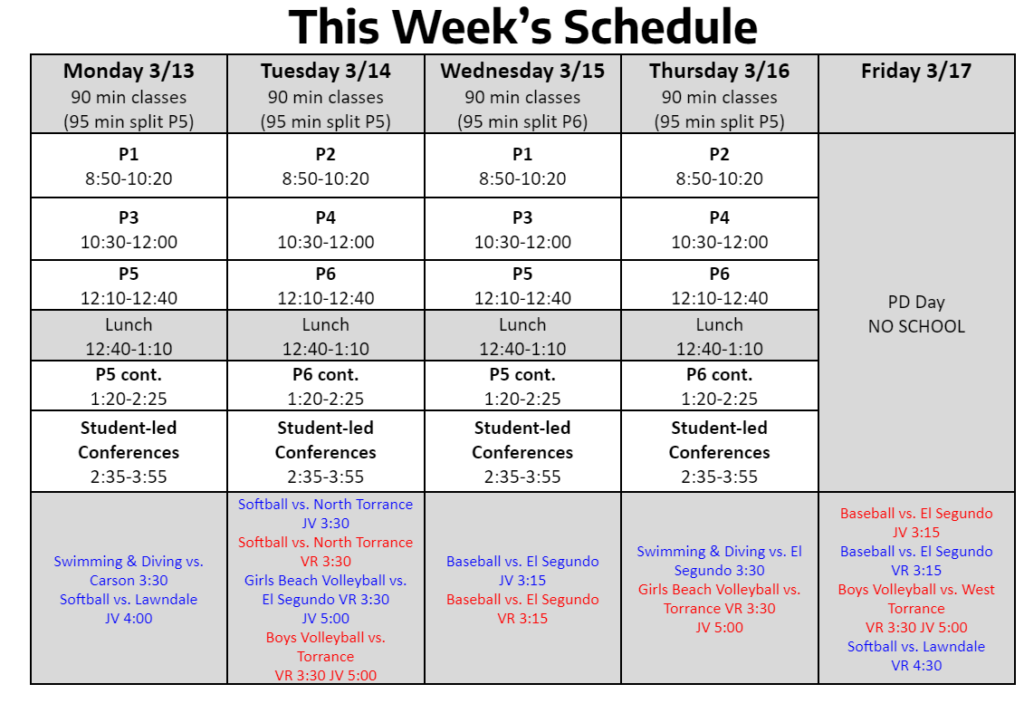 Important Upcoming Dates:
Monday-Thursday, 3/13-3/16: Student-Led Conference (SLC) Week

Friday, 3/17: PD Day, No school for students

Friday-Sunday, 3/17-3/19: FRC LA Regionals at Da Vinci  

Monday, 3/20: Freshmen College Webinar 5:00-6:00

Tuesday, 3/21: Sophomore College Webinar 5:00-6:00

Wednesday, 3/22: Medical Interventions Grand Rounds 6:00pm

Thursday, 3/23: Junior College Webinar 5:00-6:00

Saturday, 3/25: Da Vinci Schools CARnival 10:00-5:00

Thursday, 3/30: Exhibition Night for Grades 9 and 11

DVS Graduation date is scheduled for Thursday, June 8th at 5:00pm

Summer School Dates (for credit recovery): Session 1: June 13-June 30 Session 2: July 11-July 27