Week 4 Schedule & Back-to-School Night
Dear DVS Families,
We had a terrific first week of September at DVS and are looking forward to rolling into week 4! You can scroll down to the end of this message to see the details of the week 4 schedule, which includes Back-to-School Night on Tuesday and the Student Club Fair on Friday.
We encourage all parents to attend Back-to-School Night on Tuesday, September 10th at 6:00pm! The format will be different this year than in previous years in response to parent feedback asking for more freedom in the schedule and greater opportunity to interact with teachers. Instead of a format in which parents follow their child's schedule through the evening, the first hour will be an "open-house format" to allow you to visit classrooms at your own pace and meet the teachers. (Teachers will not be able to discuss your child's specific academic progress at this time – those conversations will take place at Student-Led Conferences in week 8 or by appointment.) At 7:00, parents will go to their child's advisory class to meet the advisor that your child has for all 4 years here. The goal of this time is to connect with other parents in your child's advisory, learn about our advisory program, and share ideas for how the parents can support the advisory teacher. The schedule for the evening will be as follows:
6:00-7:00pm   Open House-style conversations with teachers
7:00-7:45        Meeting in Advisory classrooms
Click here to see the details of the week 4 schedule:  DVS week 4 schedule (S11)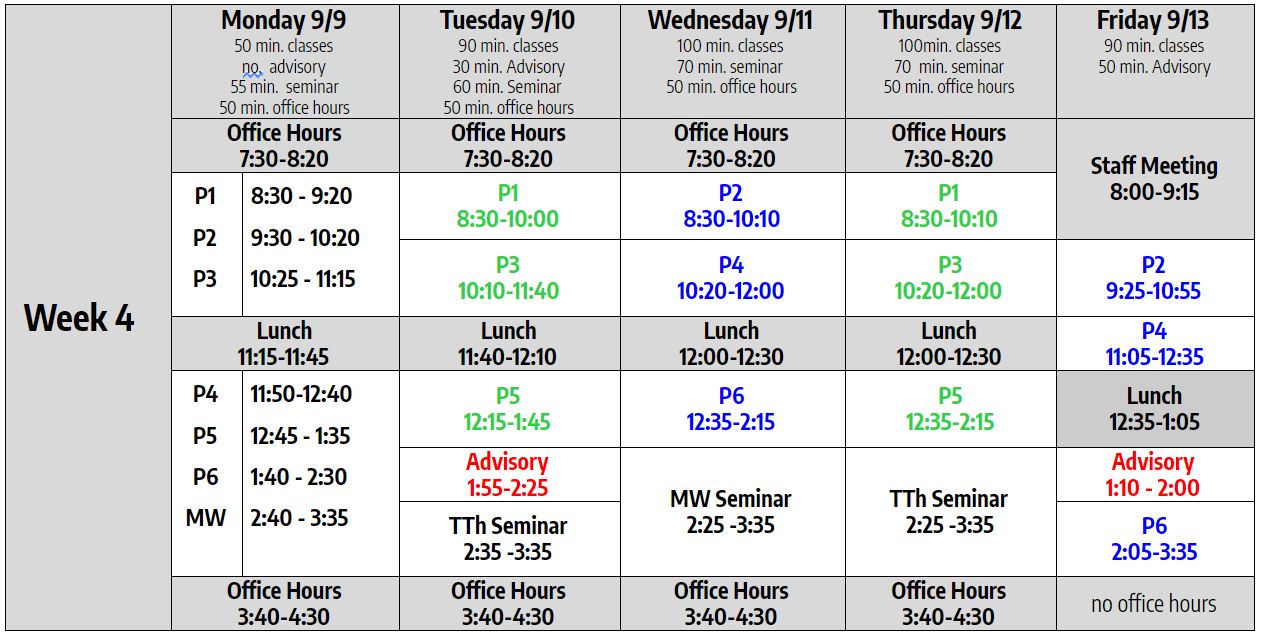 I look forward to seeing you all on Tuesday evening!
-Steve