Week 29 Schedule
The last week of March will be a regular schedule  with Senior Beach Day on Friday!
The FRC Robotics Team is Competing at Cal State Long Beach This Weekend You can follow the team on their Instagram at https://www.instagram.com/team_4201/  Good luck Vitruvian Bots!
DVS Week 29 Schedule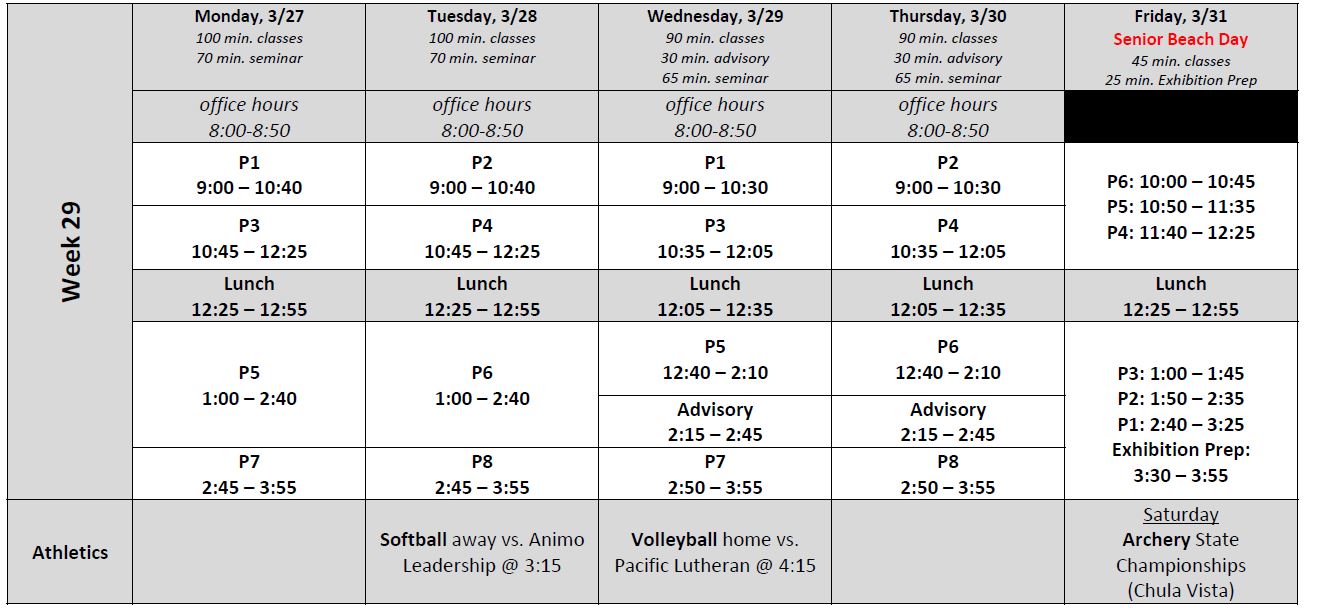 Athletics results from last week
Boys Volleyball Varsity beat New Roads 3-2 onm Tuesday and on Thursday varsity beat OC Christian 3-0.
Softball On Thursday, the team lost to Lennox Academy ,13-5.
Track Congratulations to our track team for another outstanding performance this Wednesday! We would like to give special shout outs to DVS athletes who are currently ranked top 8 in the league: Angela Magat (3rd place in 100 Hurdles, 5th place in 300 Hurdles), Belen Blanco (6th place in 800m), William Henriquez (2nd place 110 Hurdles, 4th place 300 Hurdles), Marco Marsella (4th place 100 Hurdles), Boys 4x100m relay (6th place), and Boys 4x400m relay (6th place). We are also proud to have 13 students who ran their personal best times this season!
Archery Da Vinci took first place at the Olympic Archery in Schools LA Conference Championships!
Our Youth & Government Fundraiser at Strand Brewery in Torrance is on Monday 4/17 from 5pm-9pm – please invite your friends and co-workers to save the date and join us to support this fantastic program!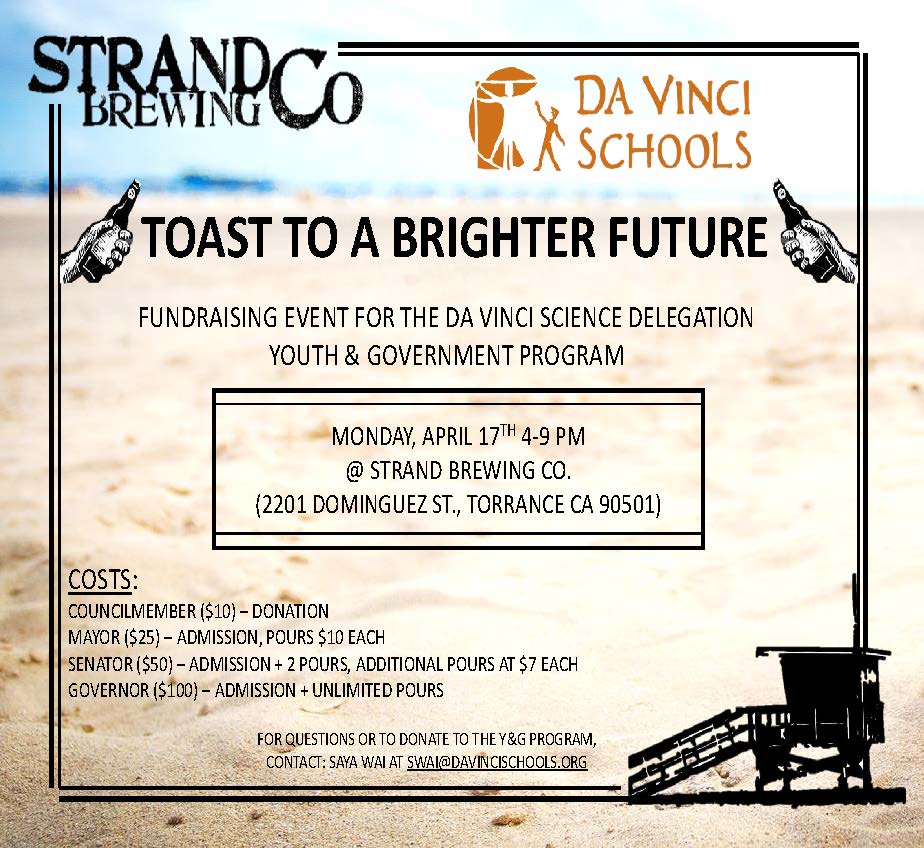 Annual Giving Campaign
Donate or Pledge by April 30 and Your Gift Will Be Doubled!
There's never been a better time to support Da Vinci Schools! Thanks to the extraordinary generosity of Belkin, Northrop, Chevron, Gensler, 72andSunny, Kinecta Federal Credit Union, and Continental Development, all gifts to the Da Vinci Schools Annual Fund will be matched dollar-for-dollar, up to $75,000.
Make your donation or pledge by April 30 and your gift will be DOUBLED.
Every gift makes a difference. Please consider making a tax-deductible gift or pledge today by clicking this link (http://www.davincischools.org/makeagift.shtml). We thank you!