Week 26 Schedule & Information
Here is the schedule for this week – Friday is a Professional Development Day, so students will not have any classes that day.
DVS week 26 schedule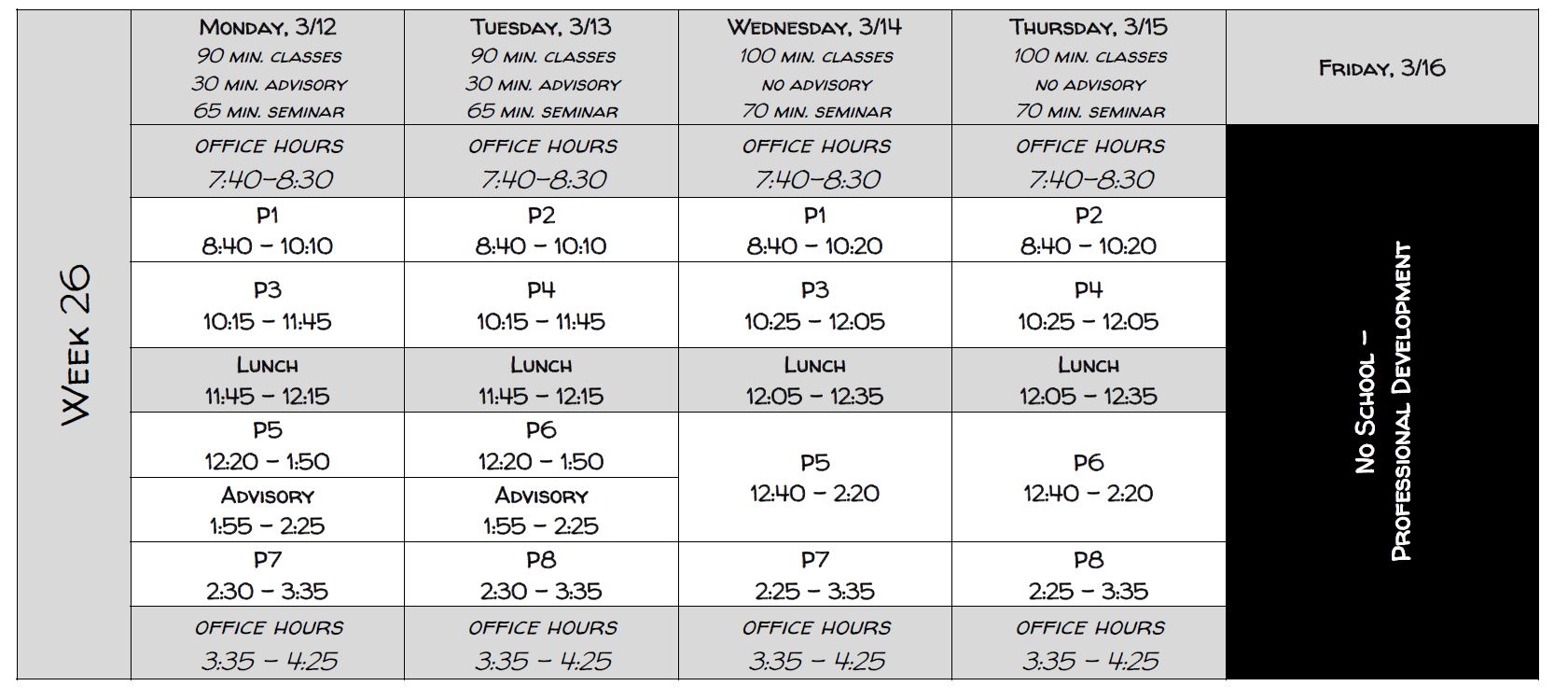 Spring Semi-Formal Dance
The Spring Semi-Formal Dance will be this Thursday 3/15 from 6:30-9:00 pm in our Theater. Tickets are $10 and can be purchased on campus this week.
Cal Poly EPIC Summer Camp
On Tuesday at lunchtime, there will be an informational meeting about the Cal Poly EPIC Summer Camp. This is a week-long summer engineering camp in which students get to live on campus at Cal Poly SLO and do engineering activities with Cal Poly students and faculty. Scholarships are available to DVS students through a grant from Northrop Grumman! See this flyer for more details: Cal Poly EPIC Summer Camp Flyer
Summer internship applications are now open! 
Applications are now open! Go to www.dvrealworldlearning.com/internship-opportunities.html to see the available opportunities and descriptions.
Students can also go to the Resources tab to get help with their Resumes and Cover Letters. All applications are due on Friday, April 13. 
Internships last for 6 weeks in the summer and students will receive course credit for the internship.
If you have any questions, email Tina Hannouche channouche@davincischools.org or Korey Hlaudy khlaudy@davincischools.org
Annual Giving Campaign – Matching Challenge – Donate Today!
There has never been a better time to support Da Vinci Schools!Donate or pledge by April 30, 2018 and your contribution will be doubled by our generous industry partners, up to $75,000. All pledge payments must be received by June 30, 2018 to be eligible for the match. Annual Giving dollars provide unrestricted funds and flexibility that allow us to address urgent needs and take advantage of special opportunities as they arise. They also provide funding for hands-on curriculum, a materials budget for every teacher, and much more.
Donate today and DOUBLE your impact. Every gift makes a difference! Give online at: https://davincischools.networkforgood.com or download a pledge card today! Thank you!