Week 25 Schedule (National Engineering Week)
Next week is National Engineering Week and a regular schedule for DVS, with a student-staff soccer game at the DV Design field on Wednesday after school!
DVS week 25 schedule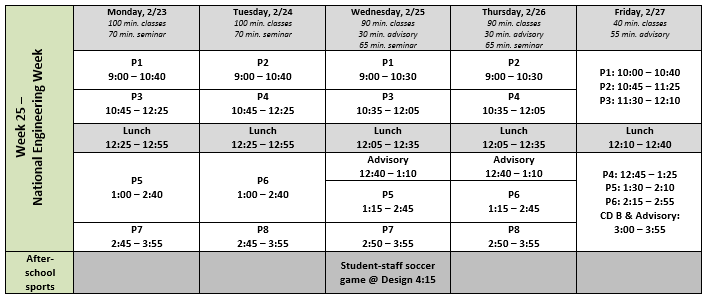 This is the last week of the Da Vinci Annual Giving Campaign! Please join Da Vinci families and staff in pledging their support to Da Vinci Schools- a $50,000 matching challenge is being sponsored by Chevron, Belkin, Northrop Grumman, DIRECTV and Gensler. This generous corporate sponsorship means any amount you contribute will be doubled! For more information or to make a gift online, visit http://www.davincischools.org/makeagift.shtml . Please donate or pledge by February 28th to help us take advantage of the matching program. All pledge payments must be received by June 1, 2015 to be eligible for the match. We thank you!