Week 12 Schedule & Advisory Plan
Here is the schedule for next week!    DVS week 12 schedule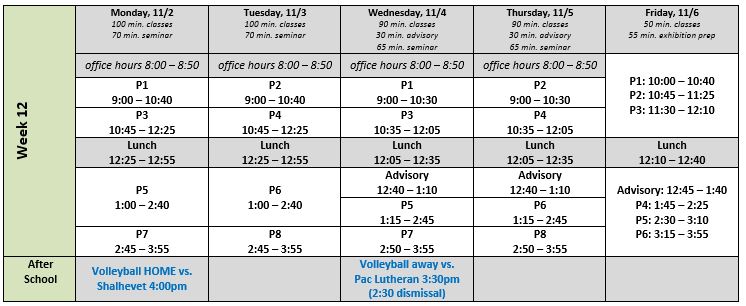 Don't forget that, in addition to office hours, students can sign up for free after-school tutoring in the college center at http://tinyurl.com/DVSTutoring – slots are open Monday-Thursday from 4-5pm.
Our advisory unit on health & wellness will focus on personal safety next week. On Wednesday we will be discussing scenarios involving fire and earthquake safety, and on Thursday we will be discussing awareness and self-defense. Your students will be asked to discuss your family's emergency plans with you at home on those days! These are the 3 self-defense videos that your kids will be watching, discussing and practicing: https://www.youtube.com/watch?v=-Wva-oDqWaM
https://www.youtube.com/watch?v=nsZhNBMjK04
https://www.youtube.com/watch?v=tgoghCO1ALw
Then, the following week, we will be preparing and practicing for the shooter-on-campus drill with the Hawthorne Police Department that we do each year.
Have a safe weekend!