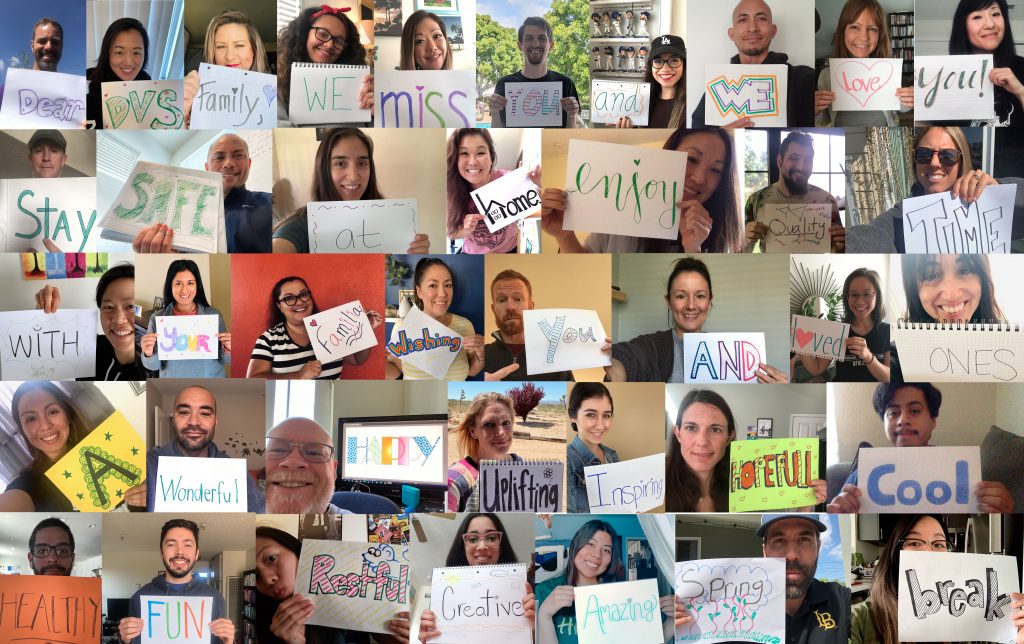 Congratulations to all of our students and staff who have shown tremendous thoughtfulness, resourcefulness and care in making the sudden shift from in-person to virtual class. We know it has not been easy, and we are proud and grateful to our DVS family for navigating the change so well. A week off for spring break is well-deserved! During this week, staff will not be conducting classes or responding to messages. You can see a video message about the week ahead here: DVS Week 29 Video Update from Steve & Grace
As noted in an earlier update, our physical school campuses will remain closed and virtual instruction will continue for all of our students through the end of the 2019-20 school year. We have decided to convert Monday, 4/13 and Tuesday, 4/14 (the two days following Spring Break) into Professional Development days to plan and collaborate in order to meet the needs of all of our students and families. Virtual instruction will resume on Wednesday, April 15th.
We understand there are many questions left unanswered and many details are still to be worked out. When we return from spring break, we will provide additional information about grading, graduations, senior activities, and more. Rest assured, we are committed to holding promotion and graduation ceremonies on campus/in person when it is safe to do so.
We wish you health and rest in the days to come, and look forward to finishing the academic year with you when we return!
Sincerely, Steve & Grace