I hope your families have a terrific, restful Thanksgiving break together! All of us at DVS are grateful that you trust us with the education of your children in these critical four years and for the support you give to them and to our school!
Our Exhibition night – our 21st Exhibition – was a terrific success thanks to the hard work of our students and teachers, and we are thankful to all of you who came to see their work! Here is a link to the photo album of the evening, courtesy of our magnificent photographer Stacee Lianna: Da Vinci Science Fall 2019 Exhibition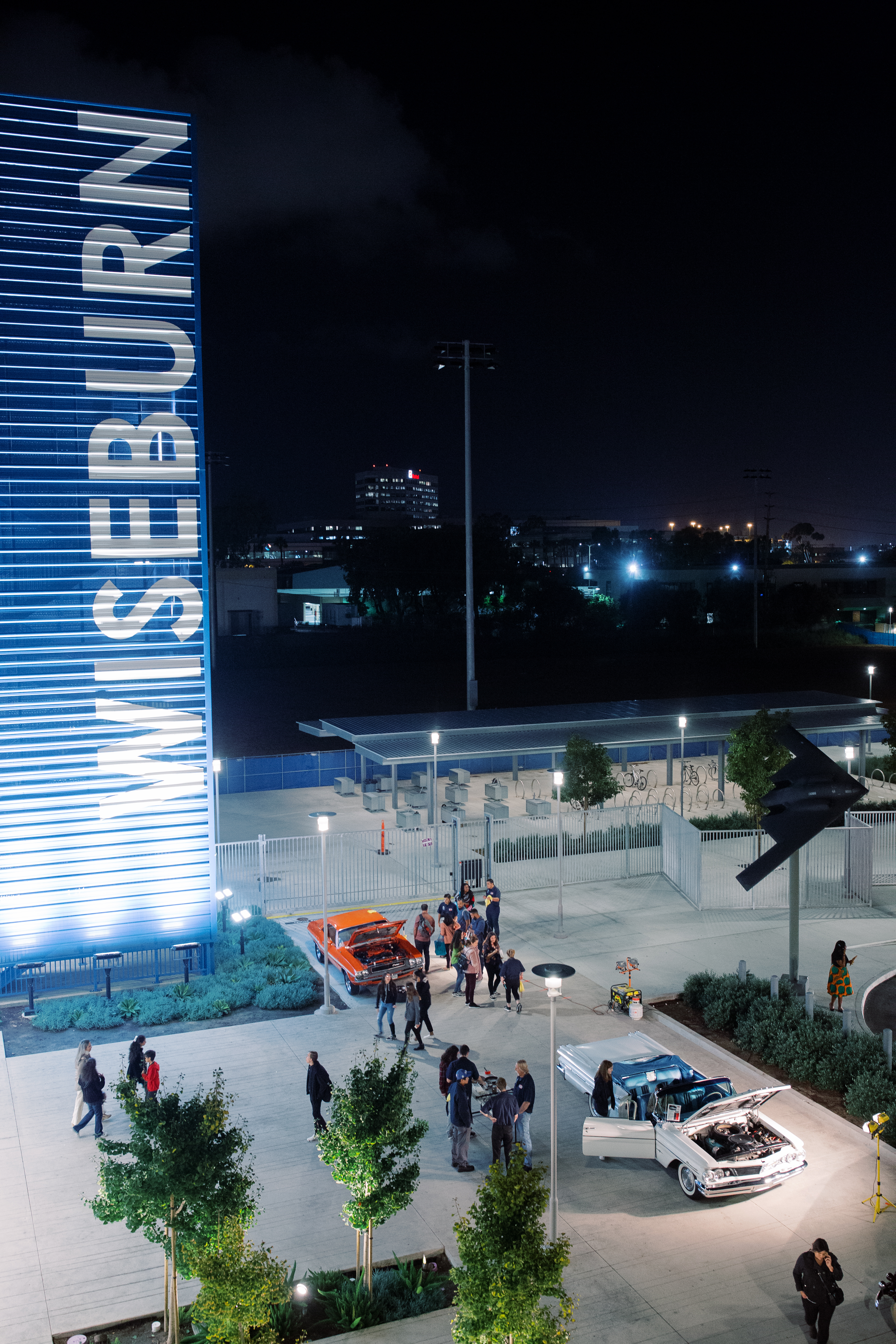 As we prepare for the last weeks of the semester, I'd like to give you the opportunity to say "thank you" to the DVS staff by participating in helping provide them with a special salad bar lunch on Friday, December 20th. If you're able to participate by providing something, please sign up here: https://tinyurl.com/holidayluncheonDVS
The last day for students to turn in work for first semester is Friday, December 13th. The final week of the semester, when students do their Presentations of Learning, will look different than it has in years past at DVS. Rather than attending for a half-day as they did in years past, all DVS students will come to school from 8:30am-2:25pm. In addition to their Presentation of Learning (POL), students will take End-Of-Course assessments (EOCs) for each of their classes – so it is critical that all students attend school on all of these days. Students will be given the details of these assessments in the coming weeks. Here are the schedules for the last 3 weeks of the first semester when students return from Thanksgiving break: DVS week 15 schedule (S11)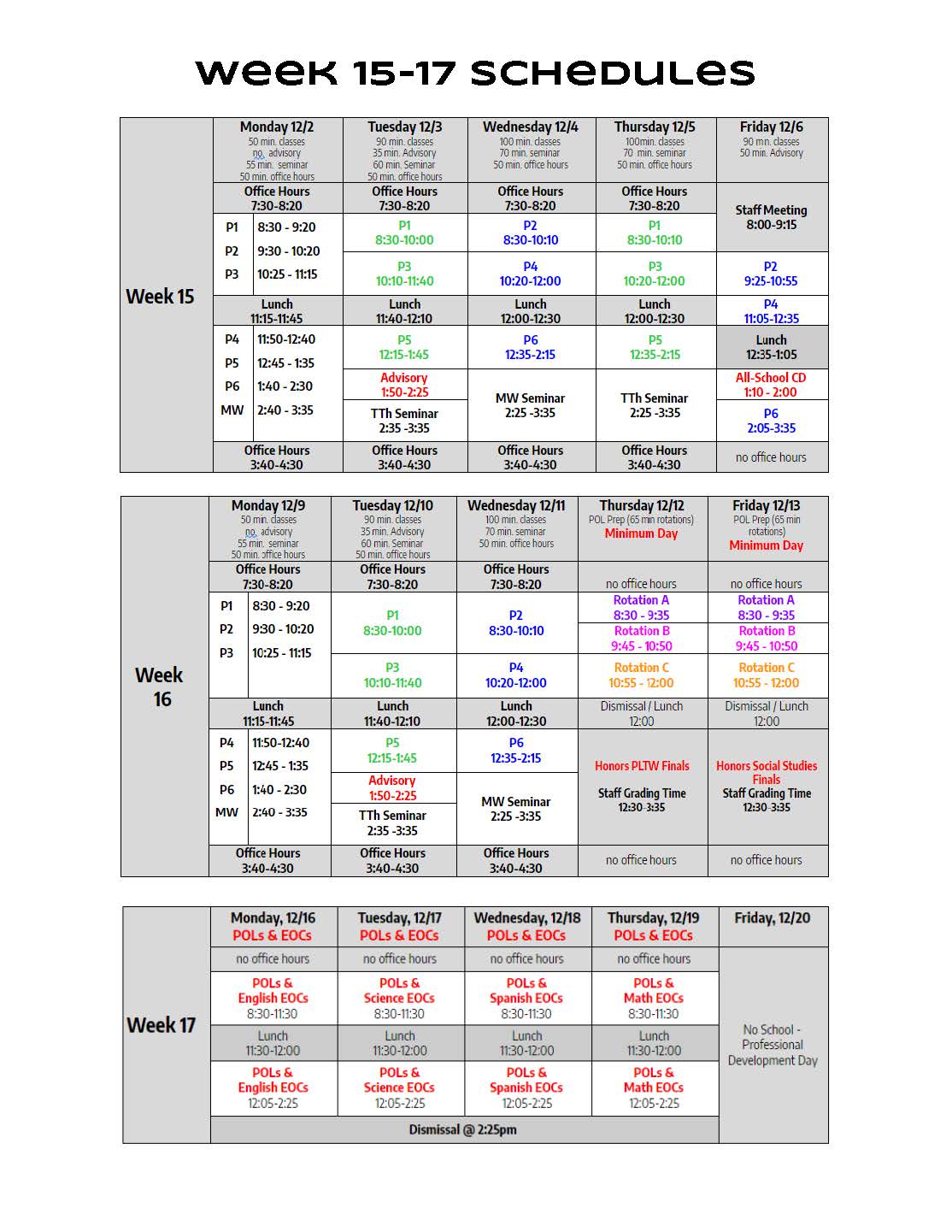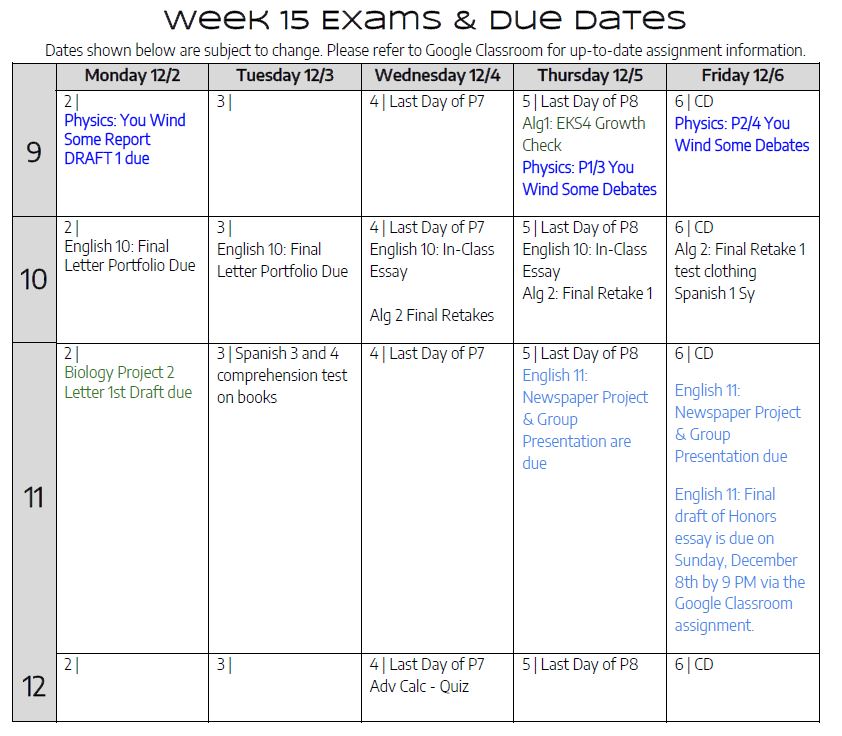 Finally, in preparation for our winter professional development work we are gathering opinions from students, parents and staff about the following 4 aspects of DVS culture: Advisory, Dress code, Attendance & Punctuality, and Campus Care. It's quick! Would you mind taking a couple minutes to fill it out for us? https://tinyurl.com/DVS2019CultureSurvey
Thank you! Have a terrific and restful Thanksgiving break!
-Steve